Regular price
Sale price
$67.00 USD
Unit price
per
Sale
Sold out
Share
My love for strange and peculiar things started young, and one lifelong obsession is weird plants. I've been a cacti and other succulent collector since I was about 7, when my Nana gave me cuttings from her collection. Recently, we took a walk in the Succulent Garden of Wellington Botanic Gardens - a chance to bask in the winter sun and admire the view! This observational watercolour doodle was inspired by this visit, along with some of my beloved favourites from my windowsill. (If you recall, the game is to observe 9 related things, create 3x3 watercolour swatches with a limited palette, then paint the things).
Go behind the scenes and find out about my cactus obsession in this blog (complete with dorky photos of me as a teenager!).
Do you have fond childhood memories, too, of a loving grandparent feeding your obsessions?
 In "Strangely Succulent," you'll find from top to bottom, left to right:
Opuntia

 

(prickly pear) pads and fruit. I couldn't resist a touch of gold to bring out the prickles arising from the bristly glochids.
Agave

 

with the loveliest fringe of contrasting spines. Each leaf is embedded with a shadow of the prickles from the leaf above.
Crassula

 

Aeonium atropurpureum

 

with its stunning bright yellow inflorescence contrasting against its purple leaves.
Sedum morganianum

 

or Donkey tail.
A close-up of the

 

Opuntia

 

fruits, also touched with gold.

"Chain of hearts" 

Ceropegia woodii

 

is another favourite from my childhood, with its heart-shaped leaves and curious tuberous growths along the vine.

I try to include a bird in these studies, and we were fortunate to see a Korimako/Bellbird feasting on orange aloe flowers. The bright winter's light brought out the usually-subtle purple undertones around his face. The flowers are enhanced with a touch of pearlescent orange paint too.

"String of Pearls" 

Senecio rowleyanus

, like perfect peas cascading down the wall. Nana had this growing in her kitchen.

"Chain of hearts" 

Ceropegia woodii

 close-up of a single flower - tiny but exquisite with such fine detail.
I used a few more pigments than I usually would in one of these studies, but my main focus was on sultry perylene violet and perylene green, which are the perfect colour match for so many botanical subjects, and they mix to a lovely grey. I also used my favourite serpentine, along with rich green gold, quinacridone rose, pyrrol orange, and some secret sauce of dioxazine violet.
The original is available along with limited-edition A5-size hand-embellished prints. The original was painted on Fabriano Artistico soft-press 300gsm watercolour paper and is 16x23cm, hand-signed, and comes with a certificate of authenticity. The A5 (15x21cm) prints are on archival fine-art paper, hand-signed, and embellished with gold watercolour paints and a pigment pen. The edition length is 30, and they also come with a certificate of authenticity.
I use the same grid for laying out all my observational doodles, so the painted area is the same size across the series. They make cute collections framed and displayed together. The overall size (ie the margin) of the originals may vary slightly depending on the paper I've used, but the prints are all identically sized at A5 (15x21 cm).
View full details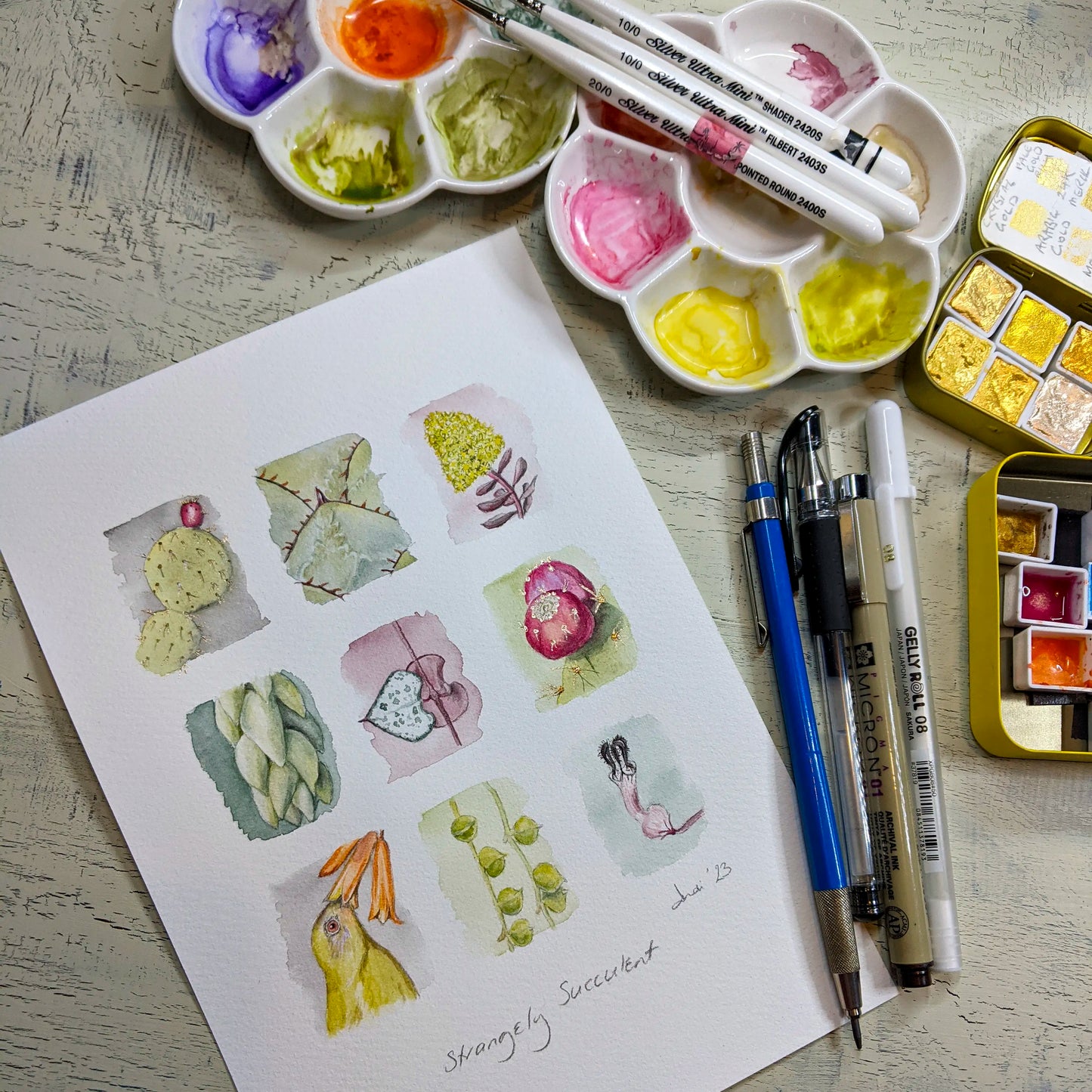 Shipping

Shipping is by NZ Post (choose standard untracked or tracked courier). Orders typically ship within 1-3 days, or 3-5 days if there are custom embellishments. If a third-party printer is used (usually only for extra-large prints, and metal or canvas prints), allow two weeks in addition to shipping time. If your order is time-sensitive or urgent delivery is needed, please enquire before purchasing.

Full shipping details

Returns & Refunds

Happiness guaranteed! But please check carefully that you have chosen the correct size and format before your purchase to minimize any issues. You may return your item within 14 days.

Refund policy details
More About Originals & Embellished Prints...
Irresistable embellishments

Many of my original paintings are embellished with pearlescent accents. I also embellish the fine-art prints made from these originals, creating a unique piece of art in the process.

Impasto & Encaustic prints

Fine-art prints mounted onto boards and finished with acrylic impasto or wax encaustic, and other mixed-media elements.

Custom embellishments

Do get in touch if you'd like to discuss a custom-embellished print.

Contact Judi